Josh's SoCon Picks
By BJ Bennett
SouthernPigskin.com
Follow us at Twitter.com/SouthernPigskin.  Become a fan at the SouthernPigskin.com Facebook Page
SouthernPigskin.com FCS writer Josh Buchanan makes his predictions for week one in the Southern Conference.

By Josh Buchanan
SouthernPigskin.com FCS writer

SouthernPigskin.com FCS writer Josh Buchanan makes his predictions for week one in the Southern Conference.

Shorter College at Western Carolina
The Dennis Wagner era begins with Shorter College. Despite being picked to finish near the bottom of the SoCon this should be an easy win for the Catamounts. They have too much depth, speed and overall talent for an upset here.
Western Carolina - 52
Shorter - 7
West Georgia at Samford
Samford is expected to win no more than 2-3 games this year and this should be one of them. West Georgia is not an elite Division II team and lacks the depth to hang with Samford.
Samford - 35
West Georgia - 13
Georgia Southern at Georgia
GSU must replace Walter Payton Award winner Jayson Foster and most of their offensive line. While this game likely won't be the 50 blowout people think, GSU doesn't have the depth and experience to pull an upset.
Georgia - 42
Georgia Southern - 10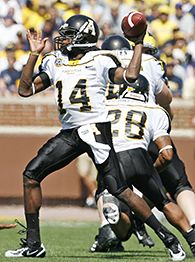 Appalachian State at LSU
This game could be canceled due to poor weather but let's hope it isn't. The FBS national champion in the Tigers versus the FCS national champions in the Mountaineers. While this contest appears to be much tougher than Michigan was last year, ASU has the speed and depth to hang in this one for a while. LSU pulls away in the second half.
LSU - 37
Appalachian State - 20
Presbyterian at Wofford
The 13th ranked Terriers enter the season with many holes to fill but still have the talent to give anyone fits. PC simply doesn't have the depth across the board to hang with Wofford.
Wofford - 38
Presbyterian - 14
Webber International at Citadel
The Citadel has plenty of talent back with QB Bart Blanchard and WR Andre Roberts leading the way. This should be a blowout win from what I expect to be a very good Bulldog team.
Citadel - 42
Webber International - 7
Richmond at Elon
This would be the game of the week if not for Appalachian State at LSU. Richmond is a national title contender while Elon has the talent to make a playoff run as well. QB Eric Ward and the Spiders likely will be too much for the Phoenix despite the homefield advantage for the Phoenix. Richmond wins a close one.
Richmond - 28
Elon - 24
Chattanooga at Oklahoma
The Mocs can only hope to keep this game close for a while. The Sooners bring too much talent with QB Sam Bradford and others. This could be a game for a quarter or so but likely gets out of hand in the 2nd half.
Oklahoma - 44
Chattanooga - 7
Mars Hill at Furman
Mars Hill has several FBS transfers that could keep them in the game for a while but Furman brings too much power on the offensive line and too much speed on defense for MH to keep this one close. Furman pulls away in the second half.
Furman - 33
Mars Hill - 7

.....
Share your thoughts on the SouthernPigskin.com Message Boards or email Josh at joshb@comporium.net