Week 2 Game of Week Preview
By BJ Bennett
SouthernPigskin.com
Follow us at Twitter.com/SouthernPigskin.  Become a fan at the SouthernPigskin.com Facebook Page
SouthernPigskin.com Senior Editor B.J. Bennett breaks down the biggest game of the week in southern college football: Miami at Florida.

By B.J. Bennett
SouthernPigskin.com Senior Editor
SouthernPigskin.com Senior Editor B.J. Bennett breaks down the biggest game of the week in southern college football: Miami at Florida.

Game of the Week Preview: Miami at Florida
Why to Watch - If you like speed and athleticism, this is the game for you. Much of the top homegrown talent in the most fertile recruiting state in the nation, including Florida quarterback Tim Tebow and Miami running back Javarris James, will be on full display. Speaking of Tebow, the reigning Heisman Trophy winner will face an aggressive defense that held Charleston Southern to just seven first downs. These two Sunshine State rivals don't especially like each other. Florida has lost six straight to Miami, most recently a 27-10 loss to the 'Canes in the 2004 Peach Bowl. ESPN College Gameday will be at The Swamp for this one.
Overview - The entire ACC, after struggling in week one, will be rooting for the Miami Hurricanes against the mighty Gators. This will be the first major test for the 'Canes after their 5-7 effort last season. This Saturday night will serve as the ultimate litmus test. The fifth-ranked Gators have national championship aspirations. Reigning Heisman Trophy winner Tim Tebow faces a tough challenge in the fierce Miami defense. Freshman quarterbacks Robert Marve and Jacory Harris will likely both play for the 'Canes. One of the youngest teams in the ACC, Miami will test their talent against the team picked by the media to win college football's toughest conference. This heated in-state rivalry has been tilted in favor of the 'Canes in recent years.
Three Keys for Florida
1. Attack the Line of Scrimmage - Miami has two incredibly talented freshman at quarterback: redshirt Robert Marve and true Jacory Harris. While both young men have bright futures ahead, they have never faced an opposing defense like the Gators and have never experienced a home setting like The Swamp. Defensive coordinator Charlie Strong will likely disguise blitzes, implement unique looks and attempt to confuse the Marve and Harris. Expect blitzes from senior linebacker Brandon Spikes, now healthy, and company. The Florida defense will need to attack the line of scrimmage, both in an attempt to contain Javarris James and Graig Cooper and rattle the young 'Cane quarterbacks. Stack the box and make Miami beat you downfield. The Gators had four interceptions against pass-happy Hawaii in week one.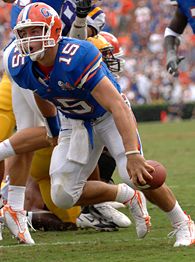 2. Maintain the Stats Quo Offensively - On paper, the Hurricanes aren't suited to get into an offensive slugfest with the Gators. Few teams are. The Gators averaged 42.5 points per game last season and scored 56 points in their season-opener. Miami put up big numbers as well, albeit against an FCS school, but the 'Canes aren't headed to Gainesville hoping to share fireworks. By continuing their offensive success and not playing out of character, Florida will put the pressure on a young Miami offense to make plays in primetime in a hostile environment. You have to assume Heisman Trophy winner Tim Tebow is going to be productive and he gets Percy Harvin back for this one. Getting Harvin involved will be crucial too as the Gators were 0-3 in games he played in and didn't score in last season.
3. Big Plays on Special Teams - Watch the Gator special teams unit Saturday night. Brandon James is one of the premier return men in all of college football and had a 74-yard punt return for a touchdown against Hawaii. Punter Chas Henry averaged 53 yards per boot in the season opener. Pinning the Hurricanes deep will put even more pressure on the young Miami offense. The Gators also led the SEC in blocked kicks/punts a season ago. A big block could really sway momentum. It will also be crucial to have sound kick and punt coverage and prevent Graig Cooper from getting free via return. Florida wants to put the pressure of scoring on the Hurricane offense.
Three Keys for Miami
1. Limit Tebow and Harvin - It's really a pick your poison situation with the Gator offense, but you have to focus on limiting the stars from having big nights. Pressuring Tim Tebow, ala Georgia last year, is perhaps your best bet defensively. The pressure is going to be on the defensive line, players like ends Eric Moncur and Allen Bailey to get a consistent pass rush off the edge. The linebackers and secondary must pay special attention to Harvin, as he is a big play threat waiting to happen every time he touches the football. Florida is a team loaded with athletes on offense, but Tebow and Harvin are the two catalysts and must be contained.
2. Let James and Cooper Loose - Javarris James and Graig Cooper are one of the premier running back tandems in the ACC. They each averaged near six yards per carry and ran for a touchdown (Cooper also scored on a return) in limited action in the 'Canes' lopsided victory over Charleston Southern. Playing on the road, in a hostile environment, with a young quarterback making his first collegiate start, running the football well will be absolutely crucial. James and Cooper are capable of doing just that. Running the football will also keep the high-powered Gator offense, namely Heisman Trophy winner Tim Tebow, off of the field. Quarterback Robert Marve should also look for James and Cooper in the passing game, as both players can catch and have the speed and athleticism to make plays in the open field.
3. Keep Marve/Harris in a Rhythm - The Hurricanes need to spread the field for Robert Marve and/or Jacory Harris. Eleven different receivers caught passes in the season opener and that is excellent offensive distribution. Passing plays to the running backs, tight ends and the slot will free up coverage downfield and give the quarterback an opportunity to take a shot deep later in the game. While running the football with James and Cooper should be the offensive focal point, cultivating Marve and keeping him in tune will be crucial as the quarterback might be asked to make key plays late in the football game.
Position Advantages
Quarterback; Florida - Tim Tebow, the first sophomore ever to win the Heisman Trophy, is as dynamic an offensive threat as you will find in college football. He had 55 touchdowns in 2007. The spotlight will be on Robert Marve, and perhaps Jacory Harris, for the Hurricanes.
Running Back; Even - Javarris James and Graig Cooper are two offensive sparks who can make plays both running and catching the football. They will be the offensive focus point. The Gators have exciting and emerging youngsters Chris Rainey, Jeffrey Demps and Emmanuel Moody and veteran Kestahn Moore. Percy Harvin is an All-American wherever he lines up and we will give the Gators some credit for him here.
Wide Receiver; Florida - We are counting Percy Harvin as more of a wide receiver, but see above. The Gators also boast Louis Murphy, Riley Cooper and Carl Moore. Tight end Tate Casey is a threat. Sam Shields leads a young, but talented, Miami rotation.
Offensive Line; Florida - The Gators boast a more experienced, veteran group with three senior starters up front. Tackles Reggie Youngblood and Jason Fox will play a key role for the 'Canes as they must seal off the edge for Robert Marve.
Defensive Line; Miami - The 'Canes boast two seniors in the middle in Antonio Dixon and Joe Joseph and end Eric Moncur is a proven pass rusher. End Allen Bailey is now healthy and ready to show his talent. Watch for tackle Carlos Dunlap and end Jermaine Cunningham for Florida, both rising superstars on the front line.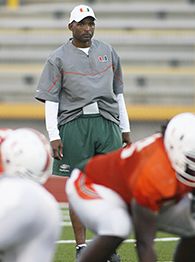 Linebackers; Florida - The Gators have the premier linebacker in the SEC in All-American Brandon Spikes, who will make his debut Saturday. Miami has three upperclassmen starters and tremendous unit depth.
Secondary; Even - Led by safety Major Wright, the Gators destroyed the spread attack of Hawaii in their season opener. Miami has experience and depth in their secondary. Safety Anthony Reddick is finally healthy.
Special Teams; Florida - Brandon James and Graig Cooper both took returns for touchdowns last week, so pay attention when both teams punt. The Gators have been one of the best teams in the nation the last few years at blocking kicks and punts.
Coaching; Florida - Urban Meyer has a national championship on his resume and many have picked his Gators as the team to beat in the SEC. Randy Shannon is entering his second season with Miami.
Intangibles; Florida - Though there is something to be said for the "us against the world" attitude Miami will bring to Gainesville, playing at home, against a young team gives the Gators the edge here.
Players to Watch
Florida: Percy Harvin, RB/WR - Ready for his first game of the season, Harvin will bring great versatility to the offense. Look for the Gators to use him a variety of different ways, both in the backfield and split out in the open field. As mentioned above, the Gators were 0-3 last season in games where Harvin played and did not score a touchdown.
Miami: Robert Marve, QB - The highly-touted Marve will make his introduction to college football as he will make his first start of his career. The stage couldn't be any larger, as the 'Canes and Gators will be on primetime, national television in one of the game's most storied venues.
Predictions
B.J. Bennett: Florida, 30-24
Kevin Thomas: Florida, 31-17
Charlie K.: Florida, 28-10
J.T. Bennett: Florida, 35-17

.....
Share your thoughts on the SouthernPigskin.com Message Boards or email us at southernpigskin@yahoo.com